The more super accounts you have, the higher the chance that at least some of your super is being invested in cruel and inhumane practices such as animal exploitation for food, testing, factory farming, live exports, or in detention centres, tobacco, gambling and fossil fuels.
We've made it easy to complete the ATO rollover form with tips on where to find the information you'll need.
Just remember to consider the impact of any loss of insurance cover or other benefits before closing any superannuation accounts you may have. Transferring the entire balance of your super account to Cruelty Free Super will mean that your old account will be automatically closed.
Filling out the ATO rollover form
This form allows you to transfer one super fund. If you have multiple funds, you will need to fill out a new form for each fund. But don't worry, it's pretty straightforward.
You can email all the forms to the Cruelty Free Super Member Services Team and they will process all of them for you.
Download the ATO rollover form
here
and follow our step-by-step guide below to complete it.
1. Personal details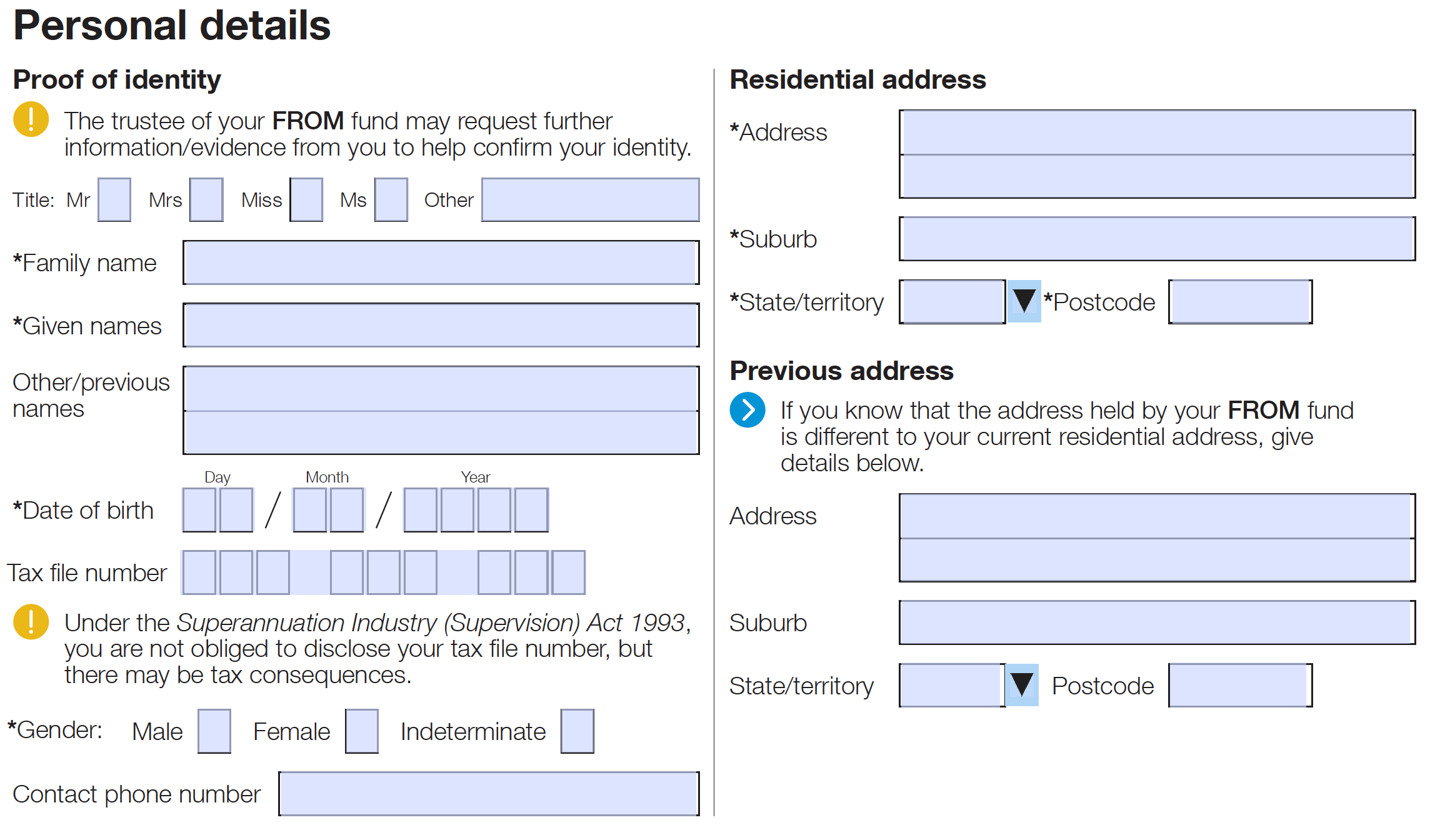 This is the easy part, all you need to do is put in your personal details. Only the fields with an asterisk * are mandatory.
You don't need to include your TFN on this form, but it is important to check if you've given your TFN to your super fund. It's your choice to provide it, but if you don't you could be taxed at the highest marginal tax rate. When you login to Cruelty Free Super, we will ask you for your TFN if you haven't already provided it.
2. Fund details - From (your old super fund)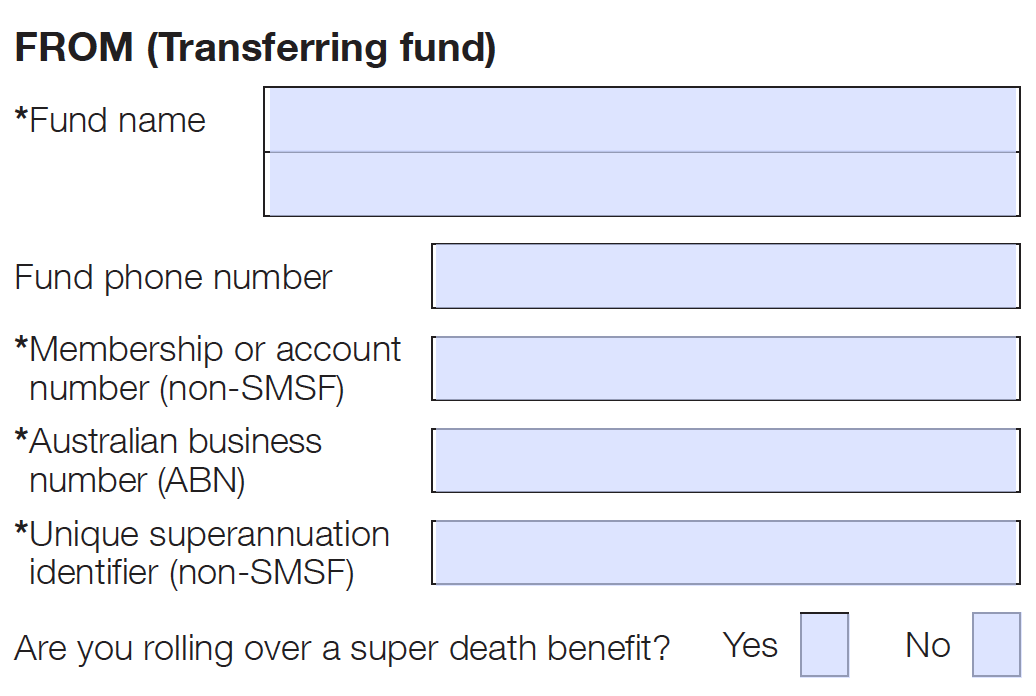 This is where you will fill out the super fund that you're transferring from.
You can find your fund details including fund name, membership or account number on previous correspondence from your old fund, such as a pre-filled super choice form. Alternatively, give your old super fund a quick call and ask them for this information.
If you have multiple funds, you'll only need to change the details in this section for each fund. The rest of the form will have the same details.
3. Fund details - To (Cruelty Free Super)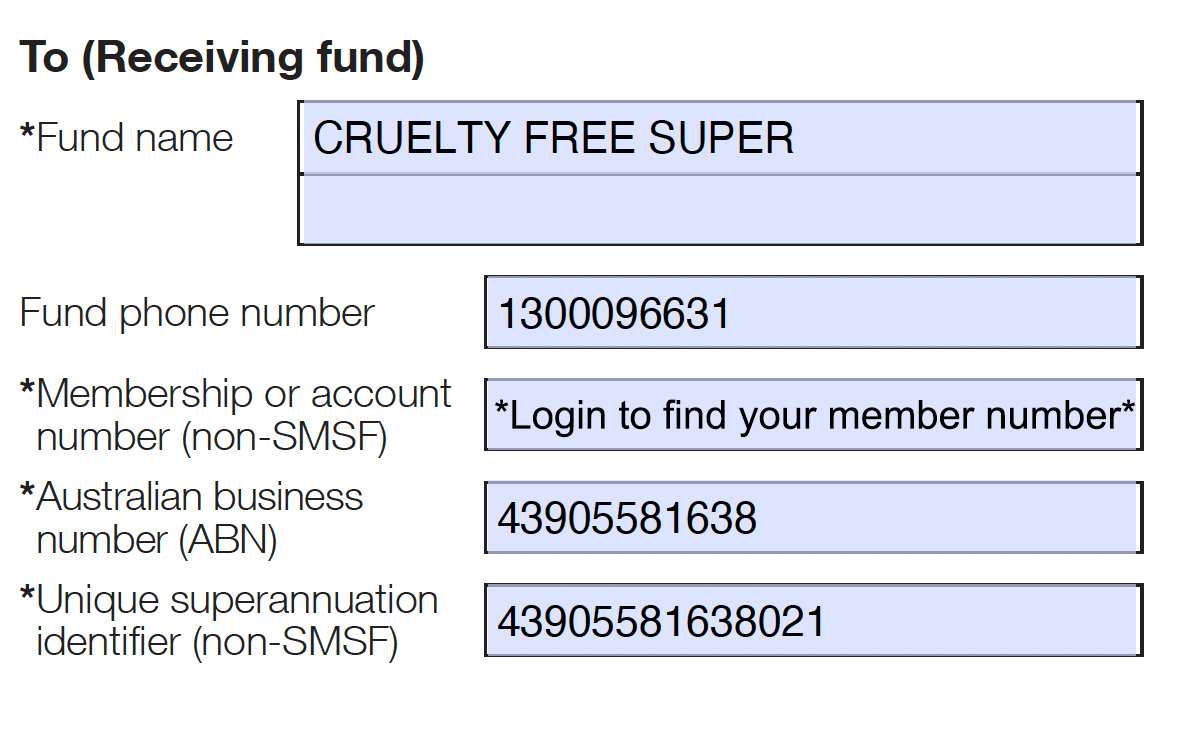 This section is super easy to complete. As a Cruelty Free Super member, you can just copy the above details onto your form.
Your Cruelty Free Super member number is very easy to find. Login
here
and it will be on your dashboard. Another place to find this is on your pre-filled super choice form, which was emailed to you when you joined Cruelty Free Super.
4. Sign and date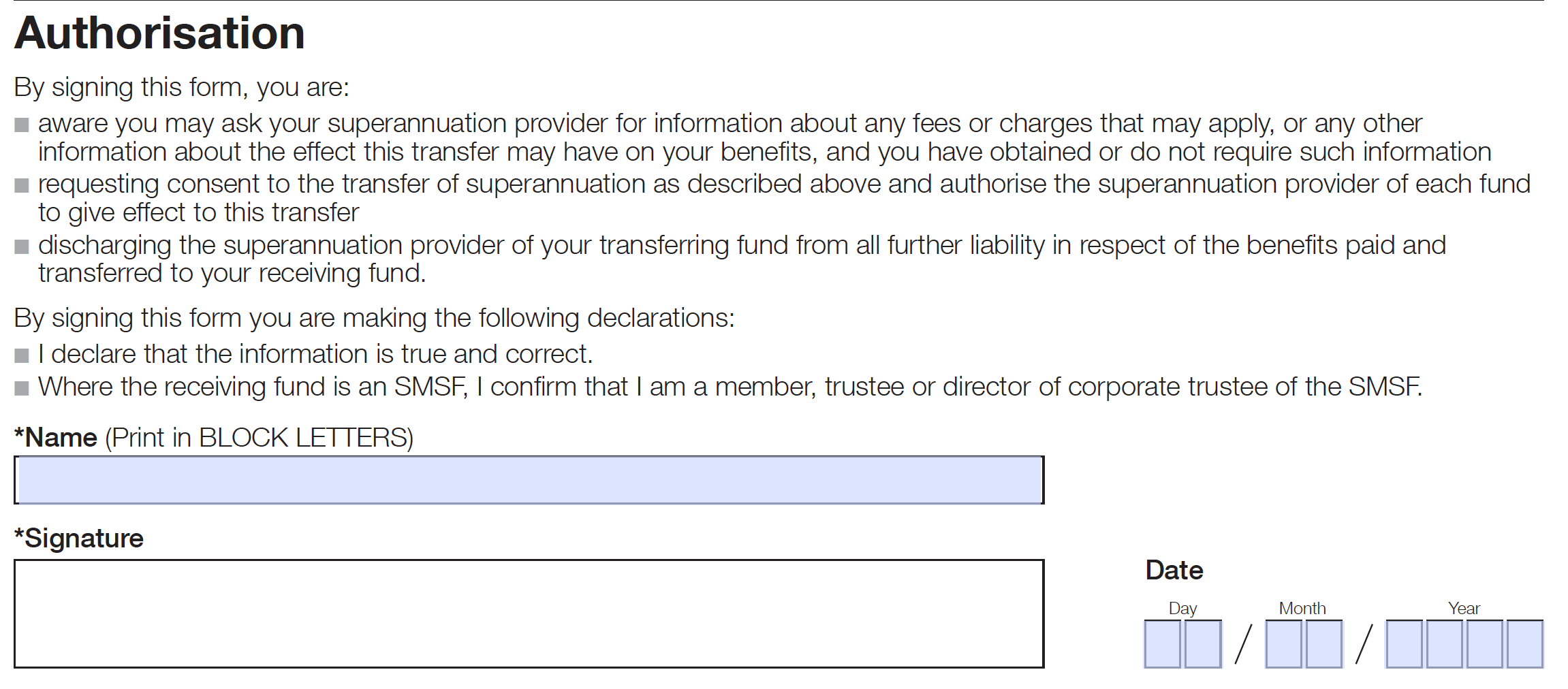 The final thing to do is to print your name, sign and date the form. And you're all done!
5. Who do you give the form to?
One last thing...
To make sure all your future employer contributions are paid into Cruelty Free Super, you will need to tell your employer about your super account. All you need to do is hand in the pre-filled nomination form that was emailed to you, or login and go to 'Tell Your Employer' to get another copy.
Now you're all set!